What Wrestlemania Should Be Part 2a: Wild Fantasy Booking
As was dealt with in January's feature on Our Hopes and Fears for 2017, WWE has of late aspired to Florentino Perez-like levels of acquisitiveness in ramping up its ambitions to lock down the most talented and popular performers from around the globe. If your favourite wrestler is currently lighting up the independent circuit, or gaining international visibility over in Mexico or Japan, there's every chance they'll be featuring in a mark photo with Triple H by the year's end.
Dream matches are being realised with alarming frequency: Shinsuke Nakamura v Sami Zayn, Samoa Joe v Finn Balor and AJ Styles v John Cena all happened under the WWE's auspices last year. Independent promotions are getting in on the act, building stacked supercards that are sometimes maybe too stacked for their own good. Heck, even Io Shirai v Pentagon Jr, my own most recent personal dream match, got to play out on Lucha Underground (and, for what it's worth, lived up to every expectation I had of it).
What becomes of fantasy booking in these conditions? When the mainstream is booked like an E-Fed, where is left for our imagination to wander? We Maintainers, having already armchair booked the realistic best-case scenario, have now put our heads together and given it our best shot in coming up with the following fantasy Wrestlemania card, basing our booking decisions on the following four presumptions: 1) the WWE can and will sign anyone they want to; 2) intergender wrestling is good 3) Robot Wars is a wrestling promotion; and 4) The Undertaker retired after the end of the Streak 
Pre-pre-show: Empty arena match
Triple H v Shane McMahon
This epic contest takes before any of the Orlando ticket-holders have filed in to the arena, and indeed long before the cameras have begun rolling
Pre-show: "Serves you right" lumberjack match
Hulk Hogan v The Honky Tonk Man
Time for some nostalgia! The lumberjacks for this match are everybody that the two competitors ever wronged. They are furthermore armed in the manner of an ECW "bring your own weapons" match. The purification ritual is  now complete and the event proper can begin.
Intro: Kota Ibushi sets off some fireworks
205 Live showcase for the WWE Cruiserweight Championship
Neville (c) v Akira Tozawa v Cedric Alexander v DASH Chisako v Dragon Lee v El Dragon Azteca Jr. v Fabian Aichner v Fenix v Jack Gallagher v Jushin Thunder Liger v Kalisto v  King Cuerno v Mark Andrews v Mayu Iwatani v Mustapha Ali v Rich Swann v Ricochet v Rush v Tsukasa Fujimoto
There's a lot of competitors here so lets make it a two-ring ladder match with the belt strung up in the dead centre. Anything goes, but if you do a chinlock you lose.
WWE Intercontinental Championship
Pete Dunne (c) v Penta El 0M v Hiromu Takahashi v Sasha Banks
Everyone in this match is a glutton for punishment, whether inflicting it on others or on themselves. Banks's most famous spot to date involved serious damage being inflicted to her opponent's hand, and Dunne loves to bite hands. Sasha also loves pulling off potentially career-ending dives to the outside almost as much as the freshly-rebranded "Ticking Time Bomb", while the freshly-rebranded Pentagon Jr can be relied on to break an arm or three. This international affair ends in a no-contest when all four competitors are too injured to continue.  
WWE Raw Tag Team Championship
Brock Lesnar & Goldberg (c) v Kris Wolf & Viper
One side of this bout has the obvious cumulative strength advantage, but the other has by far the greater bond, as glimpsed in this GIF. It's therefore anyone's guess as to who walks into this contest as the stronger team. One thing is for certain: Stardom's High-Speed Champion loves meat, and there's an awful lot of meat for her to feast on here.
IWGP Intercontinental Championship match
Tetsuya Naito (c) v John Cena
Cena was clearly angling for a spot in NJPW's Dad Division when he hit that string of old man lariats on AJ Styles in their vaunted match at this year's Royal Rumble. Here, he gets a chance to restore honour to the IWGP Intercontinental belt by beating some sense into a man who has plenty of Hustle, but precious little Loyalty or Respect
Kairi Hojo cuts a promo
The WWE Hall of Fame Class of 2017 is headlined by Vader, Ivory and Bull Nakano 
WWE Smackdown Tag Team Championship
The Revival (c) v Kenta Kobashi & Mitsuharu Misawa
For this tribute to two legendary tag teams of past and present, the part of Misawa will be played by Nikki Bella
WWE Championship
The Miz (c) v Daniel Bryan
The build-up to this match is that only the really good stuff from 2016 actually happened. I'm currently listening to Lemonade while on TV Prince discusses Bernie Sanders' presidency and the United Kingdom's continued membership of the EU!
30-boy Battle Royal to crown the inaugural WWE Boyweight Championship 
Akio v Bull Buchanan v Cameron v Charlie Sterling v D'Lo Brown v Drago v Famous B v Hiromi Mimura v Ho Ho Lun v HZK v Jack Sexsmith v Jody Fleisch v Joel Redman v Joey Mercury v Josh Bodom v Juice Robinson v Kaitlyn v Martin Stone v Nailz v No Way Jose v Otis Dozovic v Paul London v Saika Takeuchi v Sakada v Sick Nick Mondo v Scoop Slam Steve v Tajiri v Titus O'Neil v Tye Dillinger v YOSHI-HASHI
Bonus stipulation: fought under DotP Battle Impossible rules*
All our boys battle it out to see who is the greatest boy of all. See more here.
*We promise we will get round to explaining this at some point. Needless to say it involves stipulations set by a seven-year old
Tag team match to crown the King & Queen of the Stompies
AJ Styles & Io Shirai v Will Ospreay & Asuka
According to our methodical scientific investigations, Styles, Shirai, Ospreay and Asuka are ranked no. 1, 4, 3 and 2 in the world respectively, so let's split the difference and settle this once and for all. Io and Asuka by all accounts have real beef from their shared stint in the Triple Tails stable, so there's your first wrinkle. Ospreay cites Styles as his primary inspiration, so there's your second. And tell me you don't want to see that face-off between WWE's standout champions of the past year, or Ospreay selling the effects of Io's rolling Germans.
WWE Raw Women's Championship
Charlotte Flair (c) v Meiko Satomura
This is the Monday Night Wars throwback star we really need on the Network
Main Event: Never Before, Never Again, for the vacant WWE Universal Championship
Hypno-Disc v Razer
I'll let David take the reigns on this one:
I want you to think of the biggest possible match for Wrestlemania. Hogan vs. Austin? Bigger. Rock vs. Michaels? BIGGER. Undertaker vs. Sting? EVEN BIGGER THAN THAT. All of these matches are big, but they all have a fatal flaw. The competitors' legacies may be immortal, but the competitors themselves are anything but. For all their incredible talents, these men are of flesh and blood and bone. These men will age. These men will die. When we talk about the biggest possible match for Wrestlemania, we do not speak of flesh, blood and bone BUT OF STEEL AND OIL AND ELECTRICITY. When we talk about the biggest possible match for Wrestlemania, there is only one encounter that fits the bill. A match which has permeated the imaginations of every child of a certain generation. A match which is spoken of in hushed tones. A match which can never be. BUT NOW THAT MATCH WILL BE. RAZER VS. HYPNO-DISC.
This oil-feud stretches back many years. Hypno-Disc was well renowned for it's destructive kinetic flywheel, a radical innovation upon it's debut which has become the blueprint for several successful robots since. Razer on the other hand, used a piercing arm, exerting three tonnes of pressure per square inch at its tip. Based on the brake press, an industrial machine used to bend metal, the arm could pierce any opponent's armour plating and destroy their internal mechanisms, causing them to cease. It was this weapon which led Razer to two World Championship victories along with a UK Championship victory and another runner-up accolade.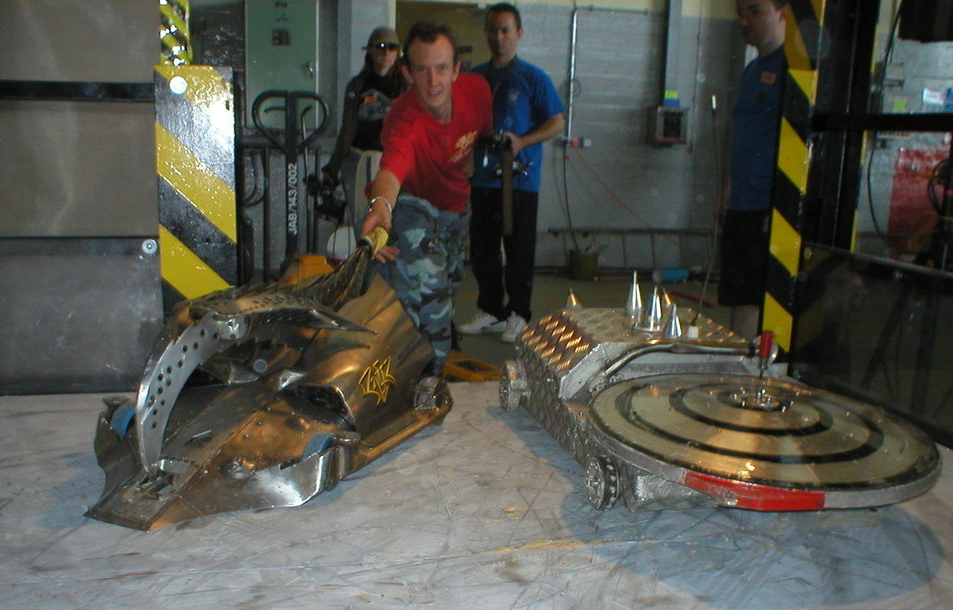 As the series passed by, both robots gained the reputation as being the most destructive robot of all time, but which one would prevail in a battle? It seemed this eternal question would be resolved during the first series of Robot Wars Extreme, when an online poll was created where fans could select their dream match, with the match receiving the most votes being made reality on the upcoming series. Naturally, Razer vs. Hypno-Disc won by a landslide as fans clamoured to find out who would reign supreme. However, a spanner was thrown into the works when both teams refused to fight. Their reasoning was that a match between the two would cause such destruction and chaos that both robots would effectively be obliterated, regardless of the winner. Both teams of roboteers refused to throw their robots to slaughter for the sake of entertainment and would not give into the fans' lust for violence.
But if both teams did not want to fight, perhaps they needed to be forced to fight? Series 5 saw Razer and Hypno-Disc tear through the opposition, decimating everything in their path until the the Grand Final episode. The formula was pretty simple. Razer was through to the final match, all Hypno-Disc had to do was pass the unseeded minnow Bigger Brother and the dream clash would become reality. Hypno-Disc WRECKED Bigger Brother, battering him from pillar-to-post. In what were quite unsettling scenes, Bigger Brother's team featured a young child, visibly distressed at the violence on show as Hypno sent pieces of metal and wire from Bigger Brother flying everywhere. Bigger Brother fought on, keeping itself moving to avoid the cease, before desperately going for the pit release button. Hypno-Disc tried to block it and accidentally pressed it themselves, before suddenly stopping. Bigger Brother then saw their golden opportunity, pushing Hypno-Disc onto the edge of elimination. Robot Wars fans looked on in horror as the unfavoured Bigger Brother pulled off the biggest shock in Robot Wars history. Bigger Brother would go on to lose to Razer in the Final as every fan's dreams of seeing the ultimate collision were crushed.
But now those dreams will come true as FINALLY, AFTER NEARLY 20 YEARS, RAZER VS. HYPNO-DISC WILL HAPPEN AT WRESTLEMANIA! NEVER BEFORE, NEVER AGAIN! ONCE IN A LIFETIME FOR REALSIES THIS TIME! A ten metre tall bulletproof glass arena, the robotic equivalent of Hell In A Cell, has been constructed for this battle. The match can go one of two ways. Razer will be looking to use the claw to pierce through the armour of Hypno-Disc and dictate the pace. However, if Hypno-Disc can get the spinner up to full velocity before Razer can grab hold, they could immobilise Razer with one well-timed hit. Razer's claw getting hold of the disc is the real dream situation because then we have the complete lottery where either the disc stops or the claw is snapped. Only one can survive, but which one? Who knows, but the image of the unstoppable force and the immovable object coming together, with only one surviving, would be the ultimate Wrestlemania moment.