An Incomplete Maintainer's Guide to the Best of Pro Wrestling 2020 Q1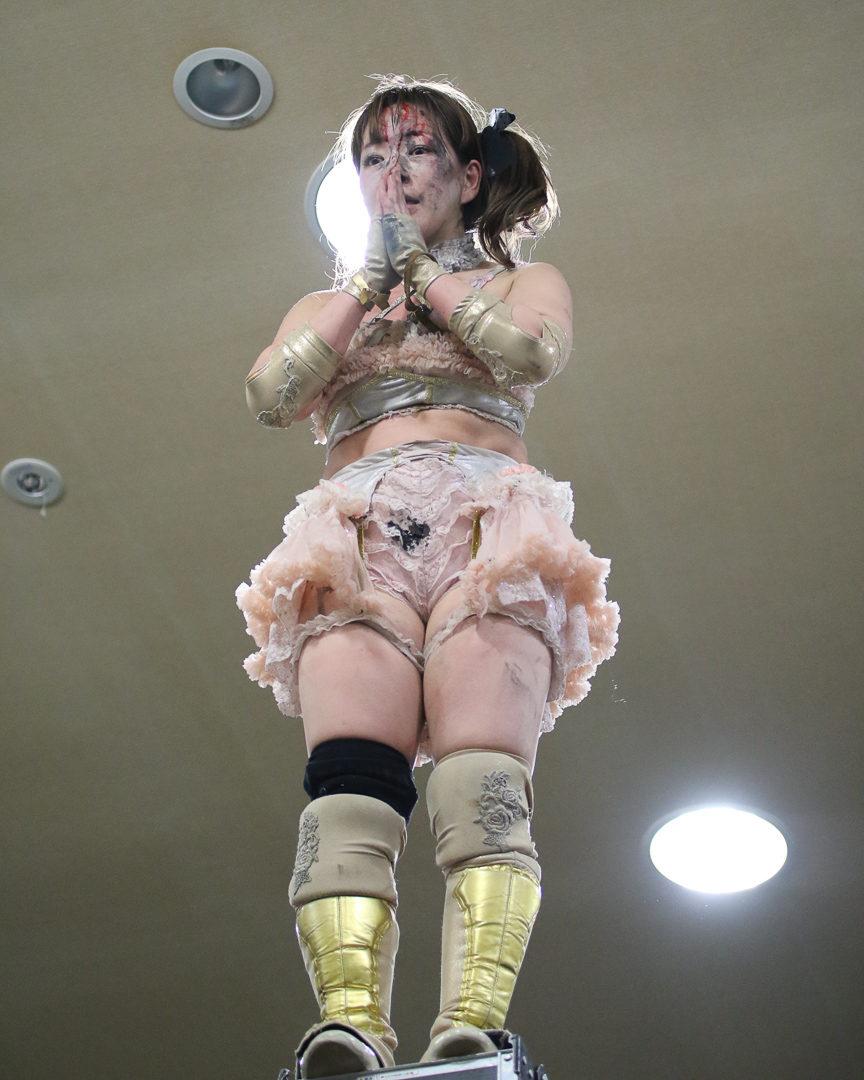 Since we're now a quarter of the way through the year, and it looks like live wrestling might be on the backburner for the forseeable future, what better moment to pause and take stock of some of the highlights of 2020 so far? Let Luke Healey take your mind off impending doom by guiding you through an idiosyncratic selection of some of the matches you might have missed…
January
Miyako Matsumoto vs. Chris Brookes

4 Jan, Gake no Fuchi Joshi Pro, Itabashi Green Hall
Gake no Fuchi was just a set of Wikipedia references to me at the point I was discovering other extreme left-field promotions like YMZ and 999, so it's been fascinating to be able to quantify for myself the precise energy that makes it a distinct proposition in this puro sub-genre, and this match was maybe more singular and revealing in that respect than the Ikemen Jiro match which kick-started this current revival. Where the energy Yoneyama and co. bring to YMZ is bawdy and jolly, Miyako's energy is more demonic – as anyone who's seen her matches with the likes of Minoru Suzuki knows, Miyako has all the bloody-mindedness of a true deathmatch wrestler, just packed into a body that's smaller and more squishy and vulnerable, and more liable to loudly complain about the hand that fate (herself) has dealt her. 
While this started out with some high-grade nonsense in a similar vein to the Jiro match – sumo bouts, appearances from Kuishinbo Kamen and a fake Jushin Liger, combined shoot wrestling/drinking competitions – by the end it had unravelled into an all-out hardcore match, with darts, staples and bamboo skewers being shoved into flesh, thumbtack spots, plastic box spots and a dive from a ladder through a table. The constant (and, presumably, Miyako-mandated) rule changes early on, coupled with Miyako's loud insistence on winning and frequent failure to do so, gave the match a slightly tetchy, nightmarish, Sisyphean quality but by the finishing stretch it had developed a runaway momentum and a real sense of wanton carnage. There are lots of different things that are like this, but nobody is quite assembling the parts like Miyacoco is right now, and this match is clearly destined to stand out from the rest of the pack on an extremely busy pro wrestling weekend.
Maki Itoh v Hikari Noa

4 Jan, Tokyo Joshi Pro, Korakuen Hall
This whole card felt like a maturation of TJPW's in-ring product, and a timely one, given they used this show to announce that they'll be running the relatively massive Tokyo Dome City Hall in November. Mirai Maiumi, Yuna Manase and Mina Shirakawa (but especially Mirai) got their shit in against Aja Kong. Sareee's appearance brought a level of legitimacy to proceedings which Natsumi Maki was able to match. Saki Akai and Yuki Kamifuku gelled really well, as did Mizuki and Thunder Rosa. Hyper Misao and Shoko Nakajima introduced the kind of hardcore spots that haven't really been seen here since Misao met Jun Kasai a year and a half ago. Miu Watanabe looked like a beast. Miyu Yamashita put on the kind of next-level performance we've come to expect from her, and Yuka Sakazaki proved capable of still going over in a way that felt credible and satisfying (much more so, it has to be said, than was the case with Shoko's title-clinching victory back in May). 
I'd predicted in the run-up to this show that Noa's performance would be the most memorable of the lot and I was right, only I hadn't quite expected the stakes to be this high. It wasn't long into her career before she found the basic tools to make everything she does ooze passion and determination, but two years in and she's found a range of techniques to bring this energy to life in the most vivid way; the figure-four bridging pin (or whatever you want to call it) she pulled off here drew maybe the biggest pop of the night from the friends I was with, and her selling during the match-winning Itoh Special was utterly compelling.
Itoh was great here too: we're a year out from her Korakuen Hall Princess of Princess title shot now, which with the benefit of hindsight looks pretty clearly like the closing of the first chapter of her career, and the defeat that set her on course to becoming a "proper wrestler". This match read quite differently from the ones that made up the highlights of her first couple of years in the ring; she and Hikari worked with a pace and intensity and attention to detail befitting of a championship match, without sacrificing charisma points or leaning too much on Big Match Techniques that don't suit them. The finishing stretch, which featured an "Itoh's head is too hard" spot, a doomed Hikari clutch pin attempt out of nowhere and Itoh subsequently reversing that immediately into the Itoh Special, was maybe the most creative and slick finishing sequence in the history of Tokyo Joshi Pro. You love to see it.
Lulu Pencil v Trans Am Hiroshi

13 Jan, Gatoh Move, Ichigaya Chocolate Square
Never once up until now have I seen Lulu given the chance to work as a comedic foil, but here she was out-weirded by Hiroshi and it gave her the space to suddenly bust out some ambitious (attempted) techniques like the Sasorigatame. That said, she was still mainly just doing Lulu things, and there's a vivid, surreal, slightly nightmarish quality to a match bringing together two wrestlers with sets of techniques that are mostly incompatible both with each other and with wrestling.
Risa Sera, Suzu Suzuki & Satsuki Totoro v Maika Ozaki, Rina Yamashita & Ram Kaicho

13 Jan, Ice Ribbon, SKIP City
Ice Ribbon multi-person tags work on a very simple principle of addition: every Ice Ribbon roster member and regular has a good schtick, so the more you gather together in one match the gooder the schtick will be (see the Ribbonmania 2019 Tag Gauntlet for further reference). Risa was particularly on form here, finding just the right balance between goofy comedy and big move razzle-dazzle, and the Suzu/Rina bits down the finishing stretch were absolutely electric – my heart still stops every time I see Suzu hit the Gran Maestro de Tequila, but Rina's lariats can get it going again.
Arisa Hoshiki v Utami Hayashishita

19 Jan, STARDOM, Korakuen Hall
As at Year End Climax, Arisa and the White Belt got the interestingly structured match while Mayu and the Red Belt get the one-size-fits-all epic. Since Arisa has come back she's projected a blithe and intimidating kind of confidence that's at odds with the Idol-ish false modesty of her unit; here there was a really gripping friction between her ability to just *dissect* Utami with quick strikes, and the way she left herself exposed whenever she tried to go for the dumb flashy high-risk offence she's learned from Will Ospreay. The way Utami found herself running on fumes for most of the match while still managing to periodically overpower and manhandle Arisa with blood streaming down her face didn't just make for some great match photos, it also created a sense of narrative urgency and kept both wrestlers looking deadly, continuing on in the same vein as their 5 Star GP match last year.
Misa Matsui v Nagisa Nozaki

19 Jan, ActWres girl'Z, Tokyo Art Centre White Studio
A superior veteran v newcomer squash match – Nozaki seemed more malicious and brutal and generally more purposeful than I'm used to seeing her here, and Matsui took the opportunity to bring out the classic joshi intensity against a senior opponent that isn't Yumiko Hotta. Felt like a zeitgeist match for early 2020, capturing Nozaki's transformation into a credible top-level player as well as Matsui's rise to prominence through the crowded field of ActWres rookies.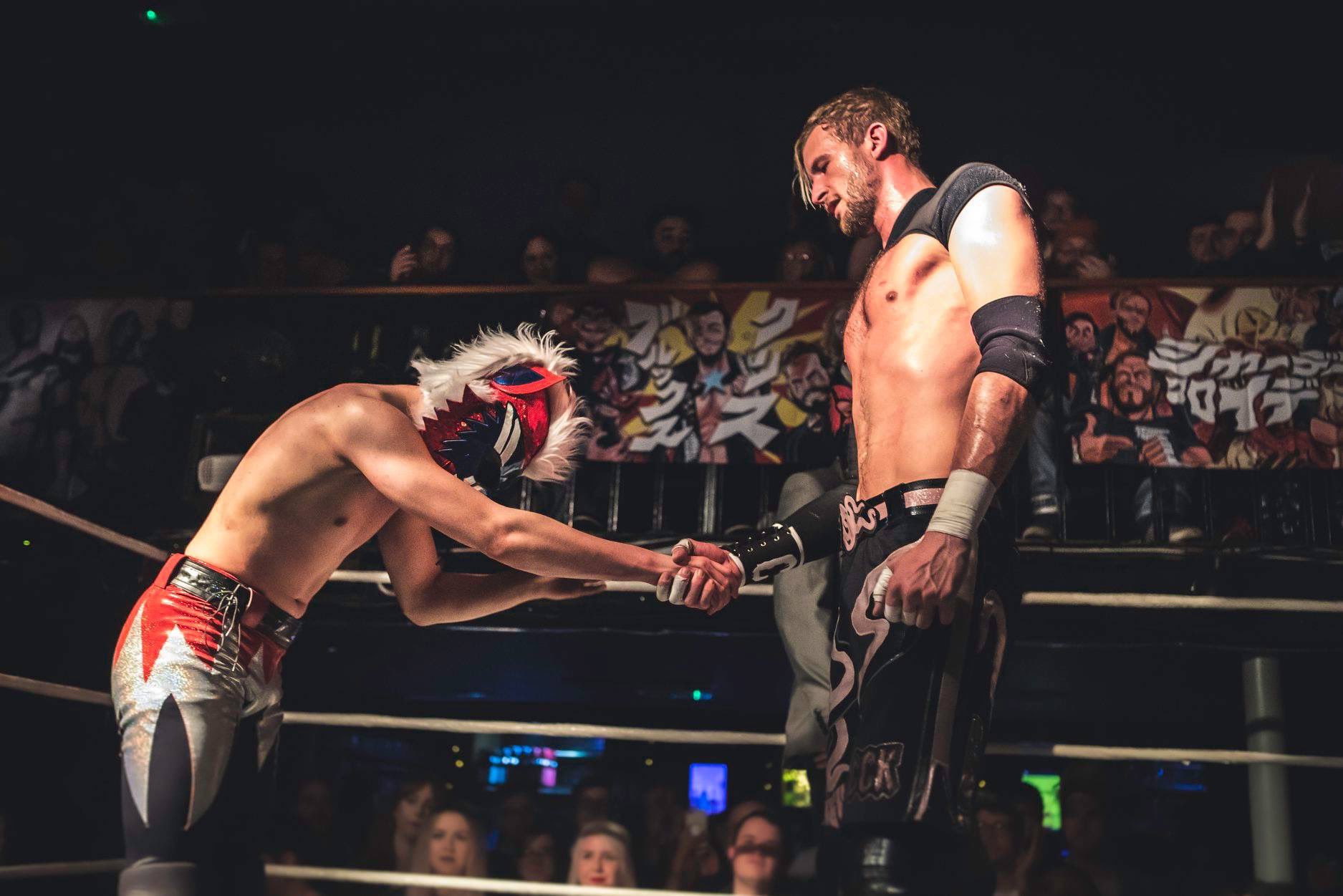 Kid Lykos II v Chris Brookes 

21 Jan, Schadenfreude & Friends, Manchester Frog & Bucket
There's been a bit of noise recently over Schadenfreude & Friends' decision not to broadcast any of their shows. While it's possible they'd be selling out their shows (usually full of unannounced matches and relatively inexperienced talent) with or without a VOD service, there's little doubt that making live attendance the ONLY way to consume hyped shows is a sound strategy for selling tickets (as I type this, they're streaming the Chris Brookes v Dani Luna one-count match on Twitch – but the point still stands). But beyond marketing hooks, the live focus has produced another thing besides, or at least has helped Brookes & co. to lean even further into something that was already a significant part of Frog & Bucket shows before IPW ended their involvement in late 2018 – it's made for an ethos where the shows are put together for a specific audience, a group of fans whose sensibilities and loyalties and expectations have been shaped by the whole run of Tuesday night shows in this venue, and who are uniquely positioned to appreciate the subversions and dramatic shifts and payoffs that might unfold at shows here that wouldn't be a natural fit anywhere else (thinking in the broader picture, you run through promotions that have achieved this kind of compact with their live crowd, from World Class to Attack!, and it starts to feel like an underrated ingredient in pro wrestling's big global soup). 
One such site-specific payoff came here, in this match where Frog & Bucket cult hero Joe Nelson, who really came to be so beloved just by being in the right place at the right time and being very young and very game, was given the honour of the Kid Lykos name, a gesture which Brookes co-signed after the final bell. Fans who were around for the all-too-brief CCK boom years were able to chant Lykos' name again, but more than that, they were able to do so while watching a Joe Nelson match, which they'd have been raucously cheering along to anyway. What's better is that the whole thing was handled with utmost sincerity – Nelson/Lykos wrestled the next night under the same gimmick, showing that the Schadenfreude crew weren't interested (at least for the time being) in using this as a gag or as a gimmick to get heat, but as a genuine figure of pathos, all the more affecting for taking place in a mostly-comic universe. The passing on of names and masks is a Lucha ritual which I can only claim to dimly understand, and it feels like a very grand gesture for such a small show, but this match is a lesson that if you're really willing to seize full responsibility for what you want your wrestling show to be, you can make it be anything. 
Miyu Yamashita v Natsumi Maki

25 Jan, Tokyo Joshi Pro Osaka Higashinari Ward Centre
One of those blessed matches where every transition just feels real and right and gripping, everything feels properly weighted and legible but urgent and authentically messy at the same time. This match told a simple story but one with plenty of nuance – Natsumi is throwing herself in at the deep end on her return from injury; Miyu, you feel, saw the Sareee match at Korakuen and felt the Sun God had gone a little too easy on her friend, so it's time to show how a real Ace dominates and controls their opponent. Miyu's matwork in the opening stretches was some of the best I've seen from her, and she found some truly intimidating ways to shut down Natsumi's comebacks towards the finish. Miyu leaves the ring reminding us of just what a phenom she still is even without her title, while Natsumi takes another hard-fought step on her journey back to the top, a journey which feels conspicuously longer than it did when she first stepped into the promotion last January. 
SAKI & Yuna Mizumori v Lulu Pencil & TAMURA

25 Jan, Gatoh Move, Ichigaya Chocolate Square 
The further Lulu Pencil gets into her career, and the closer she gets to being a "proper" wrestler (still a fairly distant prospect), the more we get to wince in horror as she's exposed to actual proper wrestling moves – here she loses the match after accidentally receiving a full-force kick from her partner, which looks as though it completely broke her in half. This match also has one of the best original comedy wrestling spots I think I've ever seen – the one where Lulu stands on the wrong side of a double suplex.
Mikoto Shindo v Maria

26 Jan, Marvelous, Shinkiba 1st Ring
Starts out the way any match between two rookies who live together and eat together and presumably share the same bathroom ought to start out, with Maria refusing to shake Shindo's hand and a slap fight breaking out as a result. Continues to get better from there, with Maria locking on a nasty-looking arm submission early on and Shindo responding in kind by hitting flash pin after flash pin, trying to get the thing over and done with as quickly and simply as possible. Through sheer persistence she succeeds and gets to refuse Maria a handshake in turn; this is pure, unadorned joshi puroresu grit and nastiness and it's great.
Mei Hoshizuki v Riko Kawahata

26 Jan, Marvelous, Shinkiba 1st Ring
What to say about this one, other than WAOW!? There's a point every new generation Hotta trainee seems to reach where they're suddenly really good at mat wrestling, and this is probably Riko's best match to date in that regard. Nagayo's record of getting her rookies to treat every singles match like a fight to the death speaks for itself. Those two qualities come together really beautifully here; there's enough of a size difference and style difference here to keep things moving on in an interesting and unpredictable direction, and pretty much every sequence sings, from the strike exchanges and submission near-escapes to the dropkick spamming and rapid pin reversals. Riko, invading Marvelous on behalf of ActWres girl'Z, feels like an overdog here, which gives the whole thing a nice edge of tension and allows Mei to play to her strengths working from underneath. A near-perfect match for what it is, and what it is is to my eyes one of the most enjoyable facets of pro wrestling as we currently find it.
February
Mei Suruga v Choun Shiryu

2 Feb, Gatoh Move, Ichigaya Chocolate Square
The sort of thing it would be easier to put up there as a MOTYC if Gatoh Move weren't such an endless conveyor belt of next-level genius wrestling. The opening minutes really set the tone here for a match that was full of technical brilliance without sacrificing any of the comedic chops that makes these two performers what they are. Mei pulled off one of the best arm-drags I've ever seen, all the spots around the open window felt like a fresh new take on that genre, and the exchanges of nearfalls towards the finish, leading to a minor career milestone for Mei in securing a time limit draw against a senior male opponent, showcased the rare intelligence these two have.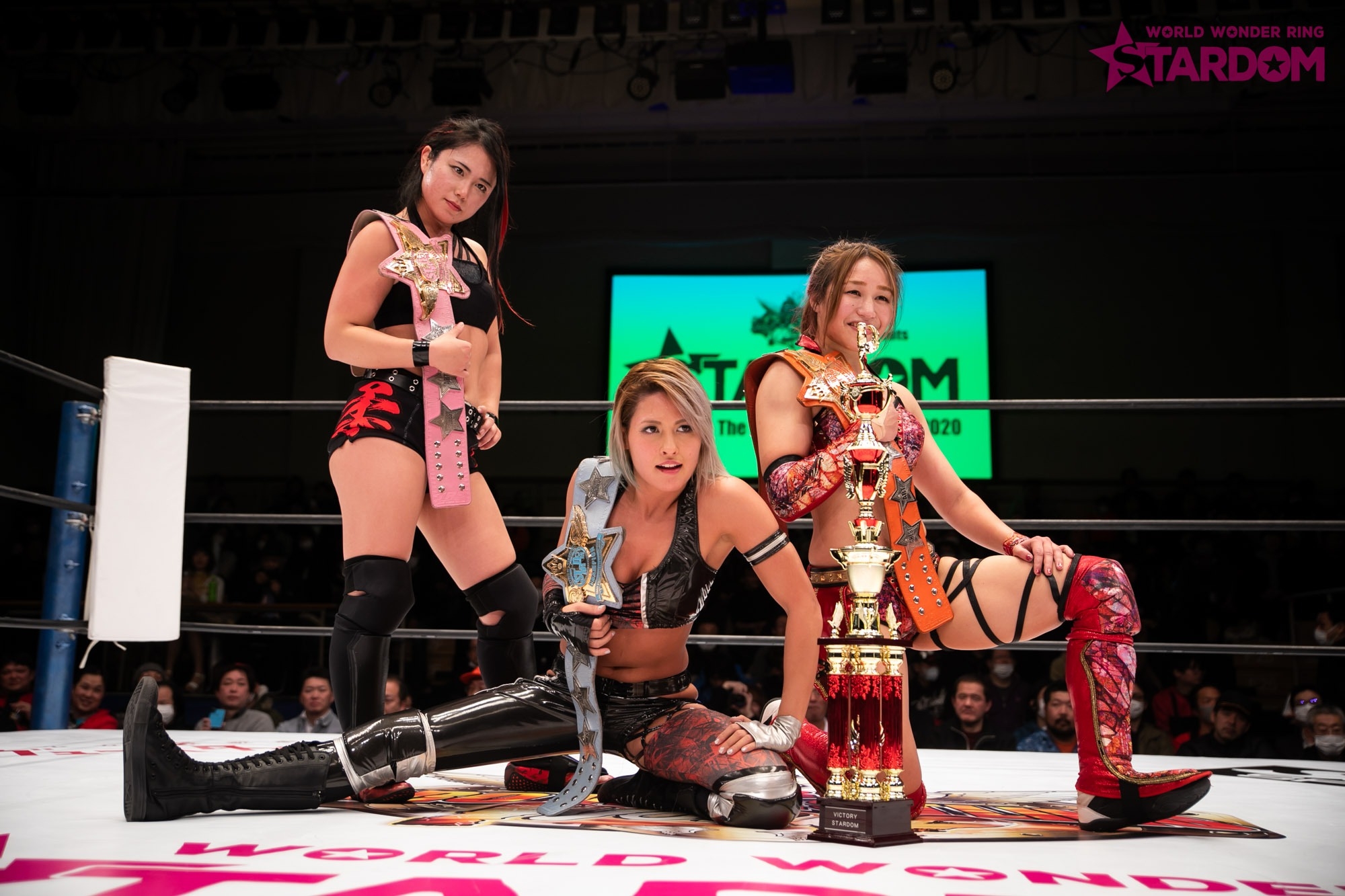 Queen's Quest (Momo Watanabe, Utami Hayashishita & AZM) v Donna del Mondo (Giulia, Syuri & Maika)

8 Feb, STARDOM, Korakuen Hall
Drily conventional booking wisdom might hold that new arrivals to a company should pay their dues before getting elevated to the title picture at the expense of more regular faces, but there's a way to hotshot that doesn't feel cheap, and Stardom have proven quite good at it over the past few years. When Utami made the final of the 5 Star Grand Prix in her first in-ring year, it worked beautifully, because she was presented as a power fighter with strength in excess even of her own understanding, able to muscle through matches against mid-rank opposition before ultimately coming up short against the greater experience and technical expertise of Mayu Iwatani. Donna del Mondo's quick ascent to trios champions feels equally justified, partly because of Syuri's veteran status and Maika's shooter legitimacy and the wave of top-heel momentum on which Giulia rode into the company, but also because of the smart work they did laying out this match, where the primary tactic – isolate AZM down the stretch – came across loud and clear, and made for a great finale. 
Mayu Iwatani v Takumi Iroha

8 Feb, STARDOM, Korakuen Hall
Not the cookie-cutter epic that Mayu's past couple of red belt defences have been, this felt closer to the wonderful Nanae/Takumi match for the Beyond the SEA Singles Championship last year, and really showcased Takumi's gift for pacing big-hitting main events that stretch on, and then go a little bit further, and then know when to stop. Mayu's ideal match type is one where she's either physically or technically dominated but manages to credibly hang in there through sheer hard-bitten resolve (see the Utami match from 2018, my favourite match of that year), and that quality was present in spades here. The final stretches, with Mayu hitting a few doomed comeback flurries that felt like nothing so much as a body twitching into the right shapes through muscle memory, and Takumi walking just the right side of obnoxious no-selling by shrugging off every hit, were really a lot more exciting than anything Mayu has done in a while.
Miyu Yamashita v Natsumi Maki

8 Feb, Tokyo Joshi Pro, Nagoya NGK Sports Plaza
Part two of the series that's the best thing in wrestling in 2020 so far. This was a breathtakingly simple, precise and dramatic match, executed with absolute conviction on both sides. Natsumi gets her first shot in before the bell has even rung and hits all her offence in quick, desperate flurries; she's not trying to out-wrestle Miyu this time. An incredibly close near fall shows that her chosen strategy wasn't a bad one, but she's just on the wrong side of good fortune (Natsumi lets out a scream of exasperation after this near fall and it's pitch-perfect in how it manages to express the whole picture). Miyu the stamina monster stays alive and eventually shuts Natsumi's territorial gains down with a single brutal roundhouse kick, just as soon as they'd started to look genuinely promising. We're left with the sense that Natsumi has risen to the challenge a little more than she did in their first match last month, but that she still has a way to go if she's to figure out how to not just find a chink in Miyu's armour, but find a way to stick at it until it becomes impossible for Miyu to recover. Unlocking the secret of how to beat Miyu one-on-one should, you feel, be enough to prepare Natsumi for a more-than-realistic shot at the top prize in the company. They make arrangements for a third match after the final bell, and I cannot wait.  
Miyuki Takase v Kagetsu

9 Feb, YMZ, Basement MONSTAR
A match I didn't really ever think I'd get to see, which played out like a main event epic squeezed into a trim 10 minutes. It's better that way – if their careers had panned out differently these two almost certainly could have pulled off a critically-acclaimed 20-minute title match on a bigger stage, but in these circumstances the shift into the third act, with its big moves and near-falls, came suddenly and surprisingly and felt like the high-risk roll of the dice that such an escalation should probably always feel like.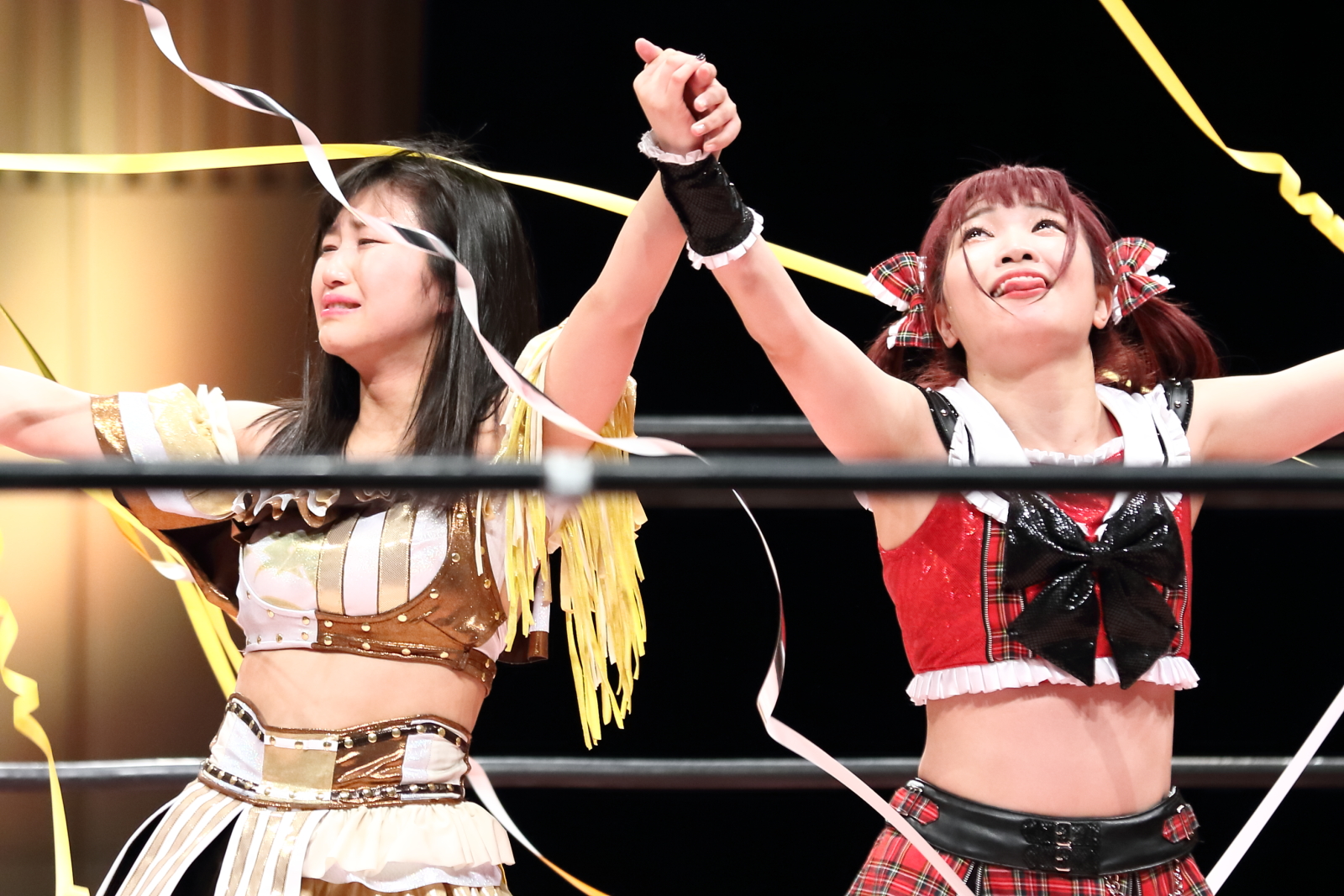 Maki Itoh, Raku & Pom Harajuku v Rika Tatsumi, Miu Watanabe & Suzume

11 Feb, Tokyo Joshi Pro, Kitazawa Town Hall
Hikari got the first singles title shot, Miu got the first actual championship, but Raku's first victory felt like the biggest thing of all. Even knowing the result beforehand, various factors conspired to make this feel like an actual event – the leaps and bounds made by the two other remaining Up Up Girls, who have kind of left Raku in the dust, the recent very good promos between Raku and Itoh which went a long way to establishing Raku as a fellow-traveller on the road Itoh herself once took, and then the actual events of the match itself, which had some gripping near-falls off of Raku flash pins before a properly surprising (listen to the crowd reaction) Slingblade and Neckbreaker sealed the deal. I've had issues with Raku's low intensity and seeming lack of motivation since her debut, but the emotional post-match scenes here really drew me in to the tag title challenge they're setting up; if they keep going in this vein it's bound to be an emotional one.
#CCK (Chris Brookes & Kid Lykos II) v The Hunter Brothers (Jim Hunter & Lee Hunter)

18 Feb, Schadenfreude & Friends, Manchester Frog & Bucket
The kind of match that demands to be discussed less for what it actually was than for the snapshot it offers of a moment in time. Maybe the most important takeaway is that Brookes – who after all has been a huge player in Progress, Fight Club Pro, Attack! and elsewhere over the past few years – chose to have his farewell match (before a 1 year excursion to Japan, and then who knows) in the Frog & Bucket, for the weird anti-promotion that grew out of Lucha Forever. Lucha Forever, which launched on an overstuffed Easter Bank Holiday weekend at the peak of the mid-2010s BritWres Bubble (and where I personally saw #CCK wrestle for the first time), which constantly looked to be at risk of collapsing from organisational issues, which ultimately did collapse only to be resuscitated and slowly nursed into its current, wildly divergent form, seemingly with little long-term planning or thought to structure, carried along by the good will of the fans and the enthusiasm of the regular performers who sensed an opportunity to carve out a space where improvisation and precarious flights of fancy were not just permissible but richly rewarded.
Brookes' decision to end his UK wrestling career (for now) with a re-run of a classic #CCK tag match was visibly a very poignant thing for lots of long-term fans in the audience, but the fact that Brookes had to come back to this space one last time to make that match a reality – this space which has organically uplifted Joe Nelson to the point where he can take on the character of one of the most beloved British wrestlers of the past decade, where Brookes doesn't just have creative control but the absolute trust of the audience, a unique audience which he has helped to mould little by little since the first Tuesday night show in this venue nearly three years ago – was poignant too. Like that amazing climactic tag match at the last Tuesday Night Graps show of the IPW:UK era, the one that ended with IPW owner Billy Wood coming out to Vince McMahon's theme and Kyle Fletcher coming back from the dead, this was a moment to reflect on the essential conditions that make these shows a different proposition to just about any other wrestling out there – the precarity and fragility of the whole enterprise, which has long felt like it's held together with duct tape and audience conviction and last-minute decisions made by inspired creative thinkers momentarily firing on all cylinders – but also the resiliency of the thing: none of us expect this to last forever, but it's lasted a lot longer, and pushed on a lot further, than probably any of us realistically expected it to.
Mei Suruga, Rin Rin & Tokiko Kirihara v Emi Sakura, Masahiro Takanashi & Chris Brookes

22 Feb, Gatoh Move, Ichigaya Chocolate Square
Rin Rin sitting on Mei's shoulders and coming up at just the right height to go for a test of strength with Brookes. Brookes pulling out a totally unexpected but totally logical submission reversal for Mei's cutesy rolling cradle spot. The bit where Mei and Rin Rin helped Tokiko apply a Manji-gatame by running through Brookes legs in a circle like anime foxes. The chain wrestling sequences Emi and Rin Rin threw in towards the end for good measure. Another month, another Ichigaya trios match which I'd be hard pushed to rate anything above.
Nagisa Nozaki v Hibiki

23 Feb, WAVE, Shinkiba 1st Ring
Nozaki's good record with rookie matches in 2020 continues apace, and this one was arguably even better than the already-excellent match with Misa Matsui, given the build and the stakes (Hibiki challenging for the Regina di WAVE title less than a year into her career re-birth, after proving herself worthy of such a slot by lasting longer than 3 minutes against Nozaki on a previous WAVE show). Nozaki is a thirteen-year veteran who has only had her first two title reigns in the last two years, and whose first singles championship came as recently as December – here, suddenly, she looked like an absolutely legitimate and fearsome (if still kind of vulnerable) champion, shrugging off spears and transitioning between nasty-looking kicks and submissions with aplomb (but still selling for the rookie in a way which got over both their resolve really effectively). After the match Nozaki set up a double-header with Takase for both the Regina di WAVE and ActWres girl'Z titles and I have very high hopes that if they play it right it could hit the heights of Takase's match with Anou from last year, or even the Ohata/Nakajima series from 2018. That's really not something I thought I'd be saying about a Nozaki match even 2-3 months ago. 
March
Natsumi Maki v Mina Shirakawa

1 Mar, Tokyo Joshi Pro, DDT Ochanomizu Dojo
Measures taken by the government to prevent the spread of CoronaVirus forced TJPW to cancel their Ryogoku KFC Hall show and improvise an alternative, and the solution they came up with was maybe their biggest sleeper smash since ~All Upper Kick Together!~. 20 matches in a one-day tournament held in the audience-free DDT dojo; the first three rounds were contested under a 5 minute time limit and 2-count rules (with sudden death janken as a tiebreaker), expanding to 3-count rules in the semi-finals (with one-count rules extra time as required), and a final contested under normal rules with a 10-minute time limit; the prize was a meal voucher for a BBQ restaurant. These rules spread a great sense of urgency over everything, but what really made this an outstanding show was the variety we got to see.
Some especially memorable moments: Maki Itoh crying in her opening match against Suzume because there was nobody to chant along with her "sekaiichi kawaii no wa~?" bit (and then just doing the chant herself in a deep voice in the next round), Hyper Misao and Mirai Maiumi putting on one of the best comedy matches TJPW has done in a while courtesy of a training dummy, Raku being compared on commentary to Inoki for her use of napping as a bamboozling tactic, Yuki Kamifuku revealing that her dog Zac has absorbed the ability to pull off her trademark eye-poke spot, Hikari Noa and Yuna Manase putting on a straight-up excellent sub-3 minute sprint, followed by Shoko Nakajima and Rika Tatsumi pulling off something similar in five.
But if I had to pick out one match that stood out above nineteen others, it would be this first-time singles clash between Maki and Shirakawa, and the reason is something tiny and apparently throw-away but actually all-important. Part of Mina's charm is that she seems like somebody who was never destined to become a wrestler but is giving it a try and finding that she likes it quite a bit, so she approaches everything with the enthusiasm of somebody who both revels in wrestling's innate cheesiness and doesn't really have anything to lose; here she's in ebullient mood after beating Nodoka Tenma in her first match and hams it up for the camera during the pre-match intros. Natsupoi, who currently finds herself in the middle of a kind-of existentially-demanding feud with Miyu Yamashita, takes umbrage with Mina's sekushii pouzu and pulls a grumpy face, visibly annoyed at Mina's carefree thunder-stealing. Once the match has started, in amongst some really good grappling, Natuspoi gets her own back by bossing Mina and flexing into the camera, and the whole thing just bristles with a really consistent and believable and dynamic and organic sense of one-upsmanship, which comes to a perfect climax when the 5 minute time limit comes up and Mina takes the tie with her (self-professed) first ever victory in janken, celebrating like she's just won the World Cup. It's just a totally brilliant, spontaneous-feeling package of character work squeezed into a little over five minutes in the middle of a very low-key thrown-together show, and makes me wonder if those might actually be some of the very best conditions for meaningful and lasting character work to emerge and develop.
Mayu Iwatani v Saki Kashima

8 Mar, Stardom, Korakuen Hall
Saki came along to this main event with all the bitterness of somebody who's existed in Mayu Iwatani's shadow for the best part of 2 years, and Mayu responded in kind by turning into the absolute motherfucker we know she can be but rarely is. Mayu was ice, ice cold here, to the extent that it's easy to imagine the crowd, if there had been one, chomping at the bit for running every glimmer of a Saki comeback, especially given the great work that Saki and Stardom have done to establish her as somebody who can steal a win from anywhere against anybody. The longer this match went on, the more nuance these two added to their character performances – Mayu becoming increasingly contemptuous of her opponent (pausing before hitting the decisive tombstone piledriver like some politicking asshole who knows they've got the book), Saki showcasing the kind of grimy, puckish anti-dignity of someone who knows they're out-matched but can still rely on having a few more-or-less-devious irons in the fire. The lumberjack stipulation was also really well used here, creating the opportunity for some chaotic unit brawling which lent a real rhythm to proceedings, and where the shithouse tactics of Oedo Tai were nicely counterbalanced against the OP teamwork of STARS. All in all – told exactly the story it needed to while incorporating a nice variety of different elements and without resorting to the main event cookie cutter.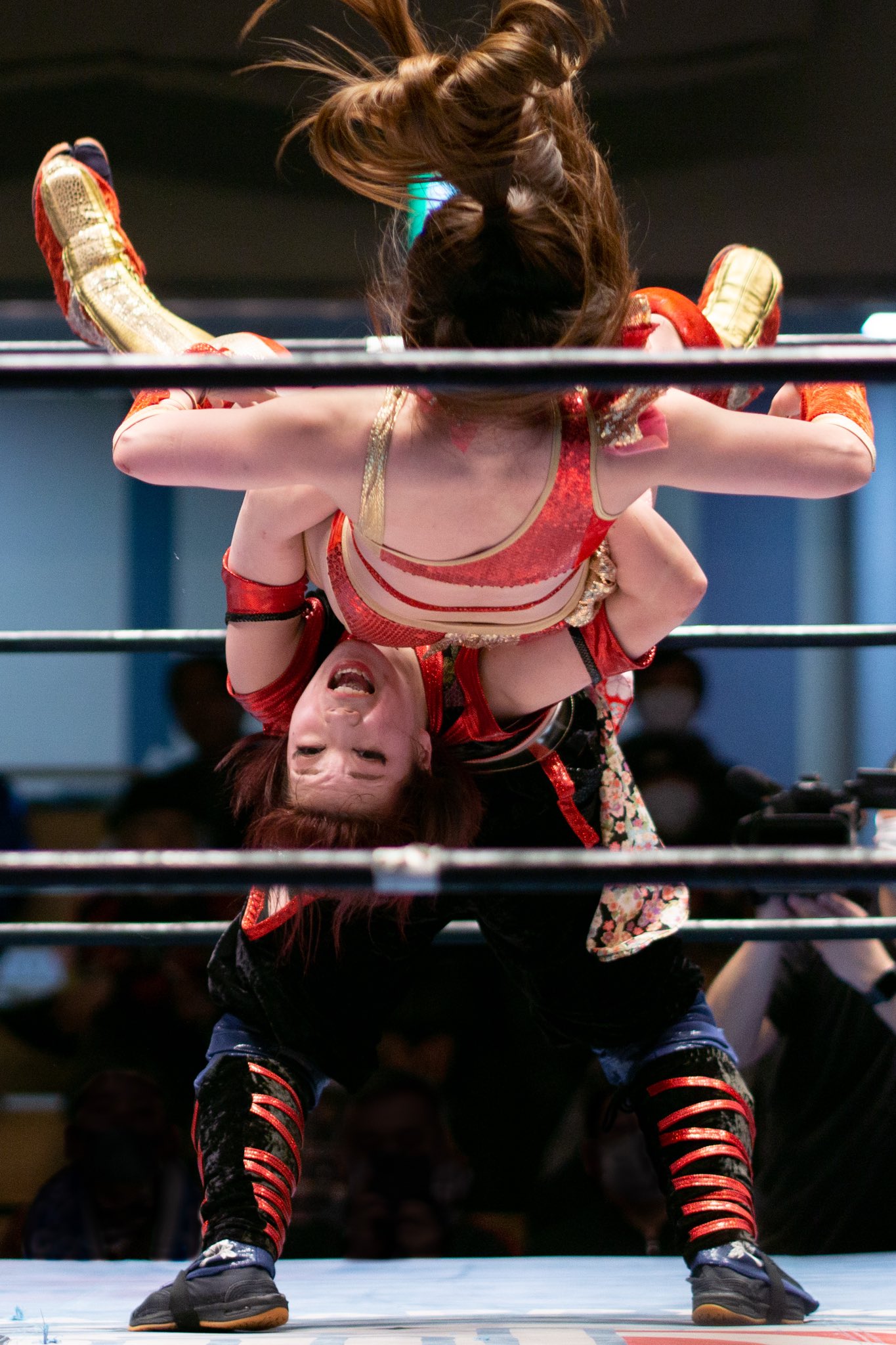 Suzu Suzuki v Tsukasa Fujimoto

14 Mar, Ice Ribbon, Korakuen Hall
Suzu Suzuki's presentation from day 1 has been a blend of the spontaneous – incorporating of her debut-delaying bike accident into what would become a 14 month-long gimmick, those quirks and vocalisations that can't really be taught or trained but which speak to a sensibility and a sense of humour which just meshes with what Ice Ribbon is about more broadly – and the meticulously planned: pinning Asahi with a totally unexpected German Suplex Hold in her first match, setting off a feud that lasted half a year and helped bring the new generation into focus; a series of title shots (vs Maya Yukihi and then the two alongside Ibuki Hoshi, vs Fujimoto and Tsukushi) and passing-of-the-torch moments (the "deathmatch" with Risa Sera and the show-closing appearance in Tequila Saya's retirement match) that helped as much as anything did in 2019 to pin down the identity of the company as it moves forward into the new decade. Suzu *is* Ice Ribbon down to her very core, and you sensed she was being pushed as a future totem for the company from the moment she first appeared riding her bike at Korakuen Hall. But that hypothesis was never demonstrated more clearly than it was here, in Suzu's first match back after ditching the bike bell gimmick, in which she unveiled rad new gear and beat the current company Ace by reversing her Japanese Ocean Cyclone Suplex – that heirloom passed on to Fujimoto by Manami Toyota, carrying with it the heritage of 90s AJW – with a new roll-up pin move that itself had a whole rich story behind it.* In addition to this new finishing move, Suzu whipped out a handful of entirely new bits of offence here, including a genuinely breathtaking jumping spinning kick, and the match in general felt nothing more and nothing less than a trial match for a wrestler looking to take the step up from entertaining rookie to serious future Ace prospect. A premeditated landmark match for Ice Ribbon, then, but one which both performers were absolutely able to carry off, because their sensibilities and Ice Ribbon's creative vision are one and the same.
*In brief – Suzu goes missing from the Ice Ribbon dojo after "graduating" from her rookie gimmick at the February Korakuen Hall show. Fujimoto puts out a reward for her return, but Suzu keeps popping up at periodic intervals and then disappearing again – first breaking into a show at the very moment that Fujimoto's was set to "christen" the new dojo ring canvas with a first bump, stealing this honour from her mentor and leaving behind a cryptic note simply reading "leg"; then attacking Fujimoto again a week later with a dropkick before leaving another note reading "roll" and a picture of Fujimoto caught in some kind of cyclone. In the opening video package for this match Fujimoto eventually tracks Suzu down to a spot by the river, where she has been meditating and developing her new move. At one point she thinks she's spotted Suzu but it turns out it's just a duck. It's one of the best builds to a match I've ever seen.
Maya Yukihi v Hiiragi Kurumi

14 Mar, Ice Ribbon, Korakuen Hall
Maya's turn into a heelish "Rebel" gimmick alongside new stablemates Rina Yamashita and Ram Kaicho seemed like an odd move for someone who's done such a good job of carrying herself like a company ambassador this past year, but here she and Kurumi rode it out really nicely into a match which told a classic story with clear heel/face dynamics about the kind of attitude that comes with being a top champion so long and the kind of attitude that comes with being a core roster member continually positioned just outside that top title picture. In contrast with most of her recent title defences, Maya worked from underneath here: Kurumi destroyed her for much of the match, to the extent that Maya was left reliant on quick comeback spots that were really a demonstration of her technical prowess but felt in the circumstances a little bit underhanded. If Maya's title reign is to continue being anything other than just *there* at the top of the Ice Ribbon card, there was always going to be a bit of work done going forward to really set her apart as a character from the rest of the roster, and this was a great first step in ratcheting up that contrast. 
Miyuki Takase v Nagisa Nozaki

15 Mar, ActWres girl'Z, Shinkiba 1st Ring
Built like a true prestige match for 2020, and in line with the best Takase big matches, this had a really simple premise based on clearly-defined movesets: Takase has the lariat (as a game-changer) and the Jackhammer (as a follow-up); Nozaki has all her big boots and running basement dropkicks and her Sleeper hold to seal the deal. Some of the sequences these two put together where they were stringing together reversals and escapes from these big moves – a big bugbear of mine when done badly – were absolutely blistering, and they also made good use of other potentially alienating devices like duelling kickouts at 1. My only hang-up with this match – and it's not one I could have seen myself having even a few months ago – is that Nozaki's stuff looked a whole lot deadlier than Takase's, and I could have easily bought her picking up the win here.
Baliyan Akki v Minoru Suzuki

28 Mar, Ichigaya Chocolate Square
This was the sort of show that seems destined to really stick in the mind for a while, as much for the circumstances of its airing as for anything else – Emi and crew reaching out to everyone stuck in their homes during the worldwide CoronaVirus lockdown, putting on a no-audience show in Ichigaya Chocolate Square under the banner of a new "ChocoPro" sub-promotion and featuring the entirely unprecedented booking of Minoru Suzuki in the main event, streaming the whole thing live via YouTube and then having to desperately scramble around to put up alternative streams once the first one had been removed due to copyright compliance issues. Proper warm, comradely, organic, undercommons pro wrestling, even when it wasn't really working according to plan. One of the crowning glories of this whole thing was that when the stream was first taken down, it was *right after* Lulu Pencil had stepped in to challenge Suzuki for going overboard in his treatment of Akki and referee Munenori Sawa. What the later release of a full, uncut version of the match reveals is that this was just the beginning of an absolutely spine-tingling segment where the full on-site Gatoh Move roster – Lulu and Yuna Mizumori and Mitsuru Konno and Sayaka and Emi Sakura and Antonio Honda – all teamed up on Suzuki and were eventually able to take him down for long enough to allow Akki to make a spirited comeback into the (really good) third act. Mitsusu looked great here in firing up and taking the fight to Suzuki, but I was most impressed by Sayaka, who in some ways has been the quietest member of last year's new recruits, but who in the space of few seconds managed to light a rocket under her career by slapping Suzuki out of his skin and knocking him off his feet with a dropkick. The whole sequence brought out a side of Emi's entire MO which you don't get to see very often – here all of her trainees were united in trying to contain a hostile outside threat, and you got a moving sense of their uniqueness as a group of wrestlers – New Wave Sakuraists, against the world.
Go Shiozaki v Kazuyuki Fujita

29 Mar, NOAH, Korakuen Hall
Fujita and Shiozaki had a 56 minute GHC Heavyweight title match in an empty Korakuen Hall and spent the first 31 of those minutes staring each other out. That's it – they just stood there, not touching, staring. At one point Fujita moved from the blue corner to one of the two neutral corners, and it felt like an unnecessary ornamental flourish – no exaggeration, this was one of the most experimental and strange but profound and beautiful sequences of wrestling I've ever seen, and it owes all of that to both guys' almost-absolute commitment to the bit. There was *so much* going on here – Go the upstanding company man standing unyielding against the equally unyielding bastard outsider; a non-contact game of chicken that pushed both men to their limits of patience and resolve and which Fujita eventually lost; a spectacle which allowed viewers to dial in on the tiniest changes in demeanour, like the camera cut back to Go which revealed that his lips were now slightly apart. The remaining 25 minutes were pretty great too – Go put in an almost Nagayoesque babyface performance here, dotting in some explosive no-selling spots at well-judged intervals, and Fujita was the embodiment of chaotic evil, swigging hand sanitizer, peppering Go with horrible kicks to the head and at one point trying to throw him off the Korakuen Hall balcony, coming across at all points as the bitterest Dad at the pub. The match wouldn't be complete without these sequences of action, but it'll be the staredown that lives on long in the memory – for its complete break with the expected form of pro wrestling, and its absolutely masterful execution of such a leap.